After several days of feeling under the weather with a nasty cold, I'm finally feeling better, and it's great to be back to the Women of the Brown Atlantic project!
Thank you so much for the applications submitted for the Memory Residency 2020, which came from Brazil, Portugal, Austria, the US and the UK! It's amazing to see so much transnational interest in the project. Thank you also for your personal messages of support and encouragement. It makes all the difference to know that the project makes sense to people out there, and that it poses valid questions about the world we live in. Special greetings also to our readers from the Netherlands, Germany, Mozambique, Finland and France!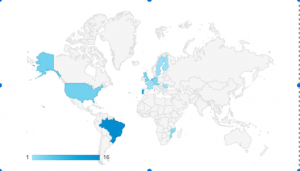 This week started very well, with news that my article 'Teresa Margarida da Silva Orta (1711-1793): a Minor Transnational of the Brown Atlantic' will be published, hopefully before Christmas, in the forthcoming issue of Portuguese Studies. This article arose from the International Conference of Transnational Portuguese Women Artists held at Wadham College, Oxford, 16-18 March 2017, organised by Cláudia Pazos-Alonso and Maria Luisa Coelho. It was an absolute honour to be asked to take part in this conference, and to speak about an eighteenth-century woman's experience of mobility in the Brown Atlantic. It was also the first time I offered a paper that was related to this project, and I have very fond memories of the event.